Hair Removal Q&A
What is electrolysis?
Is electrolysis permanent?
What areas can be treated?
What does it feel like?
Are there any side effects?
Is electrolysis cost effective?
What is threading?
What areas can be threaded?
What is the benefit of threading?
How much does it cost?
What is body sugaring?
Why is sugaring so popular?
What areas can be sugared?
What is the cost?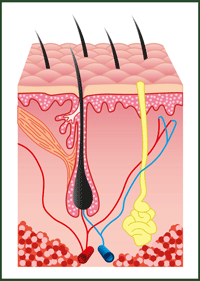 What is electrolysis?
During electrolysis, a tiny probe, the same size as the hair, is gently inserted into the hair follicle, down the papilla (the part that nourishes the hair). A very low electrical current then destroys the papilla,ending further hair growth.
Developed in 1875, electrolysis is both an art and an exact science. It is the only F.D.A. approved method of permanent hair removal shown to be effective on all skin and hair types. Once treatment is carried out for all the actively growing hairs in a particular area, they are eliminated and the client can enjoy beautiful, hair-free skin that lasts a lifetime.
Electrolysis has been proven to be equally effective on all areas of the body, and is considered the gold standard when compared to all other methods of hair removal. Commonly treated areas include, but are not limited to: chin, cheeks, neck, upper lip, eyebrows, underarms, legs, back, and bikini line. Care Electrolysis is proud to specialize in hormonal hair growth; we are experts in creating a treatment plan that will net you the most outstanding of results. You will be amazed to watch skin previously prone to irritation, ingrown hairs, and breakouts consistently improve throughout your individual course of treatment.
The insertion into the follicle itself goes unnoticed, and the current used to perform the actual electrolysis lasts only fractions of a second. Most clients describe feeling a heated sensation underneath the skin that is entirely bearable. For more sensitive areas, we sell a topical anesthetic which can be purchased and applied prior to your treatments.
An electrologist is a trained professional in the fields of skin health and hair growth. We strive to carefully balance an effective treatment with your skin's individual reaction. Most clients experience slight redness and puffiness within the treated area, which disappears 1-2 hours after treatment. When practiced in a sanitary environment by a trained technician, and with the proper client aftercare, electrolysis poses virtually no risk of permanent side effects.
Is electrolysis cost effective?
An individual electrolysis treatment is comparable in price to many salon services. While electrolysis will incur an initial investment of your time and money, in the long run, it can save you the repeated cost and aggravation of dealing with years of temporary hair removal.
Threading is a centuries-old temporary hair removal technique believed to have originated in Arabia. It is a craft passed from mother to daughter that utilizes a specially designed thread which is twisted then pulled along the area of unwanted hair. The hair is lifted directly from the follicle once it is captured at the point where the two strands of thread meet.
Threading is a very precise method of hair removal and therefore best suited to individual areas of the face. Especially popular and striking is the threaded eyebrow; an individual consultation and the ability of a threader to remove these hairs one row at a time allows for a clean and individualized look. Threading is also effective for those clients seeking to remove "peach fuzz " on their neck or cheeks.
What is the benefit of threading?
Threading is a clean, quick procedure offering temporary hair removal that can last from 3-6 weeks. The hair is quickly removed, yet the top layer of skin remains undisturbed. Unlike traditional waxing, hairs can be removed as soon as they reach just 1/16 inch in length, and there is no risk of burning or scarring the face. Because there are no side effects from threading, it is an ideal method to use in conjunction with regular electrolysis treatments.
Please click here for our price list for threading services.
Body Sugaring is a traditional Middle Eastern alternative to regular waxing. A paste made of all natural skin-conditioning materials is applied to the skin, then rolled back to remove hairs by the root. The result is smooth, hair-free skin that can last for up to four weeks.
Body sugar is an all natural product. It is applied by hand at room temperature, eliminating risks for burning or scarring. It is not resin-based and any residue is easily cleansed from treated areas with water alone. Unlike regular waxing, this sugaring compound will not remove living layers of skin; this serves to reduce client discomfort and skin irritation. Additionally, Body sugaring is eco-friendly. Without the need for disposable wooden applicators and muslin strips, you can improve the environment while improving your personal appearance!
Body sugaring is ideal for temporary hair removal on the arms, legs, underarms, and bikini line. It provides a longer-lasting alternative to shaving and can be useful to force body hairs into the active growth phase required for the most effective electrolysis.
What is the cost?

Please click here for a price list of body sugaring services.